Summer Room
The FFSC guesthouse welcomes all FFSC visitors and visitors to Vietnam to come stay with us during their time in Ho Chi Minh City. We greatly appreciate our guests because their stay at our guesthouse helps us generate extra revenue that supports the services of Friends for Street Children Association.
Address:
140/4 Vo Thi Sau, Ward 8, District 3, Ho Chi Minh City
Style:
Summer
Price:
20$ per day
25$ per day/ 2 people
Customer:
1-2 people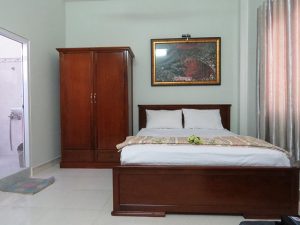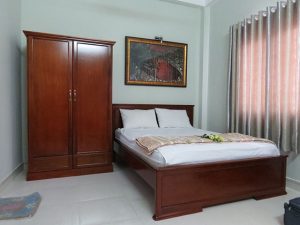 ROOM FACILITY:
1 Double bed + extra/sub single bed
Air conditioner and fan
Hot shower and bathtub
TV, fridge, wardrobe and tea table set
Wi-Fi
Our rates are per night and per room and include all taxes and breakfast.
We offer special rates for volunteers wishing to stay in our Guesthouse.
Contact your reservation here
Guesthouse Conditions:
Because we are a guesthouse, and not a hotel, we have certain requirements that we ask our guests to please take note of:
– We run a clean establishment: no drugs or alcohol are allowed in the rooms.
– If you are planning a night event, we ask that you come back before it gets too late in the night (before 12 a.m.) because we do not have a guard who can let people come in and out in the middle of the night. We would not want to lock you out!
– Similarly, if you are arriving from the airport or leaving for the airport in the early morning hours, we ask that you let us know ahead of time so we can be prepared to welcome you to your room or- in the case that you are leaving- help you carry your bags out.
– Please turn off the air conditioner and lights when you leave the room for the day.
Thank you for your great understanding and support!