END YEAR PARTY WITH SCHOLARSHIP GROUP
Bảo
 "Spring has arrived, with many best wishes,
May your family always be happy."
Only a few days left until the end of 2022, the spring atmosphere is bustling all over the roads, and alleys. The children are so excited and looking forward to Tet, the adults are hustling to buy something, and decorate the house in order to welcome Tet holidays.
FFSC's Scholarship team was racing against time to prepare gifts for children and parents in the group so that home-to-home has a warm and happy atmosphere on Tet holidays.
This year, the Scholarship Team has its own year-end party in each area. Sisters at Binh An center in District 8, visited and gave gifts to their families in the group; for the Binh Tho group gathered together and had some activities; or the Binh Trieu scholarship group went to the shopping mall for Tet.
Although the form of organization is different, they all felt happy and shared the same purpose of connecting all team members, caring for each other.
All members are no longer strangers, afraid, distance but instead of  friendship, to be as one family, and to become closer with others.
The gifts that each one received were just a tiny gift, but it was a meaningful gift for Tet.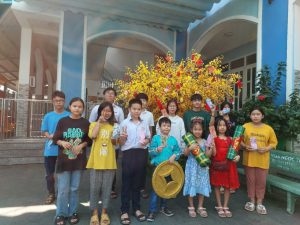 Although there are still difficulties, struggling in daily life, etc. FFSC wishes all members of the group to always look forward to a brighter life.
 "One swallow does not make a summer", that Friends For Street Children (FFSC) always needs your hands, our beloved benefactors who have always accompanied us and supported the Group over the years.
We wish the New year season to fill your homes with joy, your hearts with love, and your life with laughter, peace, and prosperity.