CHRISTMAS – "LOVING AND SHARING SEASON"
Bảo

Christmas is a season not only of rejoicing, or receiving of  luxurious pleasures, but the season has to offer love, sharing and bring peace to all the people.
On December 21, students from the volunteer team of the "Faculty of Physics – Engineering Physics, University of Natural Sciences, VNU-HCM" joined and had fun together with the kids.
The student volunteers came to bring warmth, heart and great love to share Christmas joy with simple gifts which were carefully wrapped for the children.
Moreover, the seminarians of  "Saint Joseph Seminary in Saigon Archdiocese" were presented at Binh An and Binh Trieu centers in the afternoon of Thursday December 22 to celebrate Christmas with the disadvantaged children.
Additionally, the seminarians had organized the fun puzzle games with prizes, circle activities, and singing together. The spontaneous, happy, ringing laughter, and the applause were dispelled the cold air of December.
Santa Claus made surprises with many activities in order to create excitement and bustling for the children different from other days. The benefactors and sponsors of the Caritas Archdiocese of Saigon prepared and sent Christmas gifts to the disadvantaged children.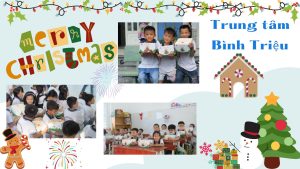 The time children anxiously anticipated had arrived. The kids received tiny gifts with bright smiles as they held the small gift bag carefully with great gratitude.
Although the gifts were small, the benefactors and sponsors truly brought a great spiritual and value of love to the children , especially the poor and disadvantaged children of FFSC.
Wishing this "Christmas – Sharing Season" will spread the warmth of human love for childhood throughout the world, particularly to the children of FFSC.