HAPPY MID- AUTUMN FESTIVAL
Bảo
"Full moon in August is the full moon. The moon shines joy for everyone; the moon shines on your childhood. A bright moon is on a beautiful autumn night with love"
Mid-Autumn Festival is one celebrated annually on the 15th of August in the lunar calendar. It is an opportunity for the children : freely dance, eat a piece of moon cake and invite each other to procession lights.
It seems like a simple thing for all children. However, somewhere there are still many poor children who have nothing to celebrate this fun festival.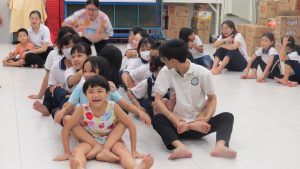 Fortunately, the children in "Friends For Street Children" were welcomed to the Mid-Autumn Festival. By the sponsor, students, volunteers of Franciscan Charity, and Banking University of Ho Chi Minh City.


Wishing the children a wonderful, funny, and meaningful Mid-Autumn Festival.The group had to do the lanterns with handmade.  Despite the sunny or rainy weather to raise funds and  prepare meaningful gifts for the children.
                     
                     
We would like to express my heartfelt gratitude for your enthusiastic love, bringing joy and meaningful gifts to the children at FFSC's